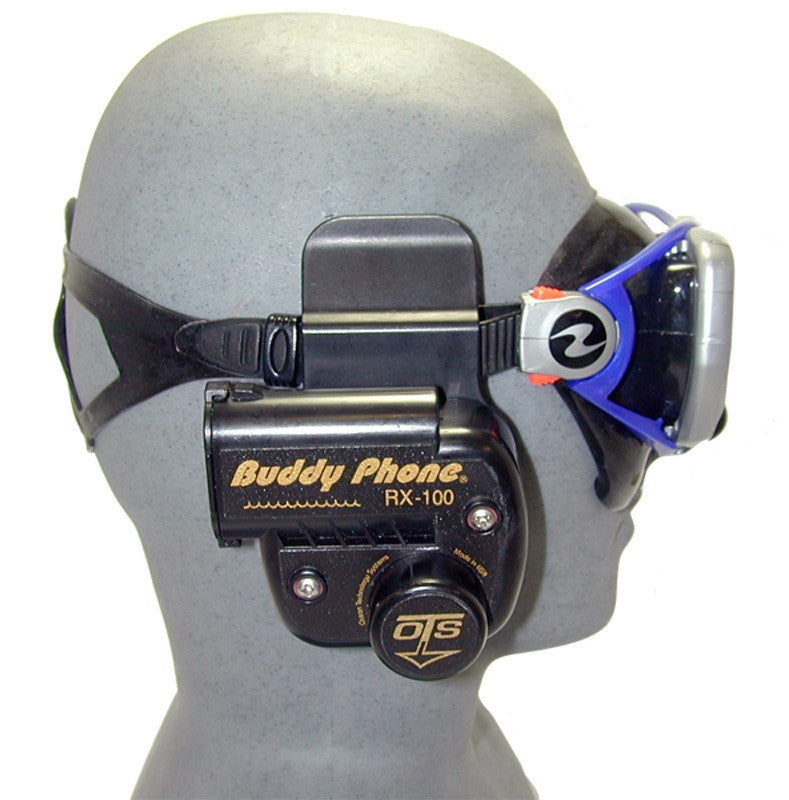 OTS RX-100-D2-A Receive ONLY Buddy Phone with Squelch
Product number:
Usually Ships in 5 to 8 Business Days
---
The RX-100 Buddy Phone® Receive Only unit is designed as an acoustic underwater listening device to be used with all Buddy Phone® or Aquacom® transceivers within range and on the same frequency. The diver simply attaches the RX-100 to his own face mask and is ready to go. When the diver enters the water, the RX-100 powers up and cycles to the receive mode—ready to receive a message.

The RX-100 is the most powerful tool an Instructor or Tour Guide can use. It allows verbal communications helping the new diver feel more secure.

The RX-100 is compatible with all OTS through water communications systems (surface and diver) and receives on Channel 1.
Features

Channel A = 33K Upper
Nominal Range: 50 to 500 meters depending on sea conditions and noise levels.
Refer. Frequency: 32.768 kHz upper single sideband
Audio Bandwidth: 300 Hz to 3,000 Hz
Auto. Gain Control: Greater than 80 dB
Earphone: Ceramic with dynamic depth compensation
Microphone:n/a
Transducer: Ceramic cylinder
Acoustic Power: 0.5W
Battery Type: Alkaline 9V "transistor" type
Operating Depth: 130 fsw
Weight in Air: 8.1 oz. (229.64 grams)
QUESTIONS & ANSWERS
Have a Question?
Be the first to ask a question about this.
Ask a Question
---
Share this Product
---
Similar Products
Liquid error (layout/theme line 400): Could not find asset snippets/eu-cookie-banner-app.liquid