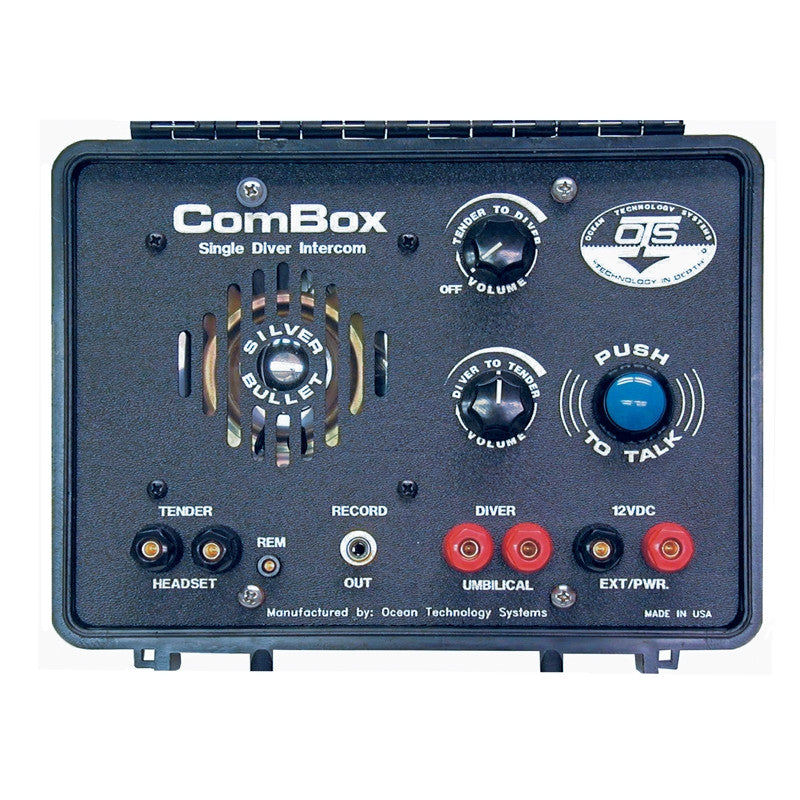 OTS Aquacom Silver Bullet Combox - One Diver Air Intercom (2 Wire Only)
Product number:
Usually in Stock. Ships in 1 Business Day
---
The Aquacom® ComBox is a compact, self-contained one diver air intercom. It allows clear communications using a powerful 20-watt amplifier and a powerful front panel speaker, "Silver Bullet". ComBox is rugged and offers many features others dream about. The Push-to-Talk (PTT) control is an industrial vending machine switch. It is designed to be pushed all day long. The front panel speaker is small but packs a lot of sound. In all, the ComBox is the finest one diver box on the market.
Features

Combox

Battery Life

6 hours continuous use with Alkaline batteries.

Frequency Reponse

600 to 10,000 Hz.

Output Power (watts)

20

Charging Time

Rechargeable option available, otherwise works with AA batteries

Controls

Volume: Tender, Diver 1.

Speakers

Heavy duty, "Silver Bullet" front panel (10 full watts).

Low Battery Indicator

n/a

Battery Type

(16) AA Alkaline batteries or 12-volt front panel option. .

Dimensions (W x H x D)

9"x7.85"x 3.4"
5 lbs.
bonjour, le poste de communication OTS n° 900273-002 est - il vendu avec le headset ?, si ce n'est pas le cas, quel headset choisir Translation: Hello, is the communication station OTS n ° 900273-002 sold with the headset ?, if it is not, which headset to choose

The OTS Aquacom Silver Bullet Combox doesn't come with a headset. The THB-CBX2 Headset, Deluxe with Boom Mic has to be purchased separately

L'OTS Aquacom Silver Bullet Combox ne vient pas avec un casque. Le casque THB-CBX2, Deluxe avec Boom Mic doit être acheté séparément
---
Share this Product
---
Similar Products
Liquid error (layout/theme line 400): Could not find asset snippets/eu-cookie-banner-app.liquid