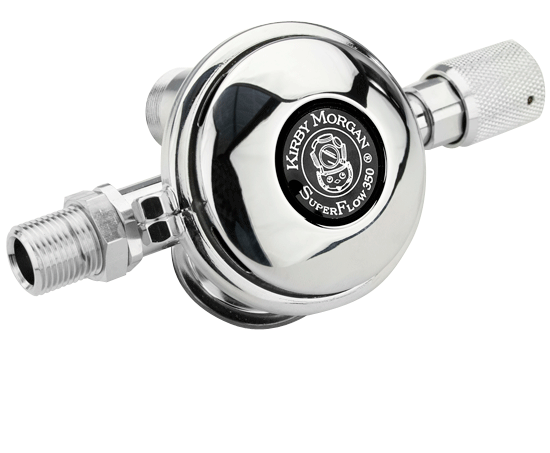 Kirby Morgan SuperFlow 350 Regulator Assembly Kit
Product number:
Due to Vendor restrictions, this item cannot be sold to a reseller
Usually Ships in 5 to 8 Business Days
---
The SuperFlow® & SuperFlow® 350 have been the benchmark in surface supplied demand regulators for more than 40 years and remain the most widely used helmet and BandMask® regulators.
The uncomplicated chrome plated all brass regulator is of a non- balanced and venturi assisted design that allows the diver a wide range of adjustment. This adjustment mechanism is compatible with all umbilical supply systems. The SuperFlow® inlet breathing tube inside diameter is 19mm. The SuperFlow® 350 inlet breathing tube inside diameter is 22mm. Both regulators are recommended for air and mixed gas diving where light to heavy work is required. The SuperFlow® 350 meets all requirements of European standard EN15333-1 and is CE approved and CR rated.
QUESTIONS & ANSWERS
Have a Question?
Be the first to ask a question about this.
Ask a Question
---
Share this Product
---
Similar Products
Liquid error (layout/theme line 400): Could not find asset snippets/eu-cookie-banner-app.liquid